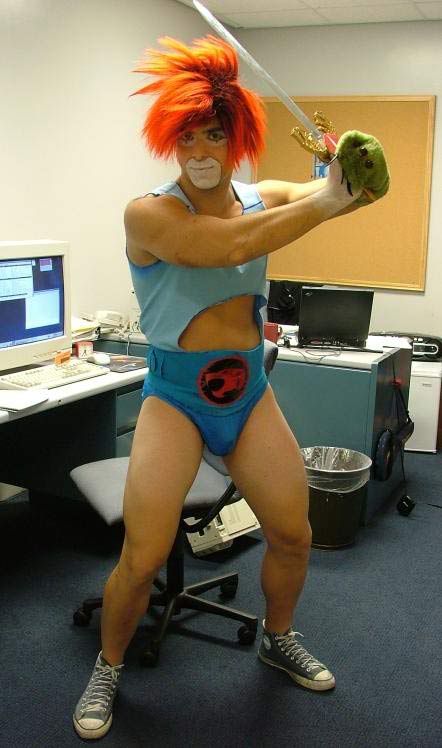 As a matter of course I am trying to cut down on the amount of time that I do two things: Watch TV on my computer and refresh Crackbook every 13 minutes. This in turn gives me a tad bit too much time to think about inane things.
ThunderCats = gay. Now, easy there, I am not using the term gay in the ever-so-popular dude usage as a perjorative. I mean, seriously, I think the Thundercats are a band of homosexual anthropomorphic cat-themed refugees. I will just break it down into the simplest terms I can use.
They are cats ( Need I make the Miata/Mini Cooper argument here? No, I think not.), and subsequently they live in the Cat's Lair. Love Den, whatever.
The leader is Lion-O. Or rather Lion-Ohhhhhh. A stretch, but bear with me.
Lion-Oh's main weapon, and the actual fulcrum of the series as a whole, the Sword of Thundera. Aside from the obvious phallic imagery, the sword only grows when he throws it around, it shoots "pulses" of "energy" from the tip, and in order to make it do anything else he has to put it on his face.
Lion-oh does wear a spectacular unitard-ish type suit with a spectacular cut out on the midriff to show off his spectacular abs. Shades of a Pre-Abercrombie idolization. Perhaps a nod to the stylings of Sigfried and Roy?
Panthro is obviously the older leather-daddy type. Seriously, he wears spikes on his muscled chest, otherwise bare, chest. Let us not forget about his weapon of choice…double-fisted nunchaku. Right. I have seen "double-fisted nun-chucks" in some rather interesting Crypt-type stores… or at the end of Requiem for a Dream.
Not to alienate the Lesbian factions, the token woman, Cheetara, is a prototypical upwardly-mobile hyper-motivated warrior "princess". Yet, in the edgey glass ceiling days of the mid eighties, Cheetara still maintains some vestiges of traditional womanhood to throw the scent of overt suggestions. She is predominantly tasked with the care of the ThunderKittens (matornly indeed) and still sports the animal print clothing so favored by the wayward 80's suburban housewife seeking undue "attention".
Snarf. Lap Dog. Done.
Finally. Mumm-Ra. Mumm-Ra is an evil sorcerer bent on destroying the ThunderCats in order to maintain his standing as sole ruler and representation of evil on Third Earth. He gains his power by calling forth the power of the Ancient Spirits of Evil (read: William Haines,Cary Grant, Ian McKellen, and…Bruce Vilanch). Mumm-Ra possesses superhuman strength, the ability to fly, as well as fortification of his mystical might — casting spells, throwing energy bolts, etc. — to battle his foes. He can also alter his physical form into a variety of alter-egos to deceive his enemies. Sounds a lot like David Geffen to me.

I don't care. I'm gonna watch it anywhoodle. In fact, I'm going to watch it more now. I see a Sociology Thesis germinating.
Game. Set. Match…Tea anyone?